Welcome to RØDE Microphones - a uniquely Australian owned and operated audio company. Our home is in beautiful Sydney, just 20km west of Sydney's downtown area and right near the home of the Sydney 2000 Olympics.
Comprising three warehouses with a total footprint of over 110,000 square feet, the RØDE state-of-the-art plant has over 60 million dollars in precision machinery and an international team of more than 250 people across highly skilled disciplines: electronics engineering, industrial design, technical engineering, robotics, audio and acoustics engineering, metal production, toolmaking, injection-mould technology, logistics, assembly, quality control, finance, marketing and sales.
As well as our main campus in Sydney, we have offices in Los Angeles, New York, London, Hong Kong, Shenzhen and Seoul. Our extensive distributor and 6000-strong storefront network ensures RØDE Microphones are sold in 117 countries – and growing – making RØDE a truly global company. 2017 marked the 50th anniversary of the parent company Freedman Electronics' formation, a remarkable milestone in modern business. Today, The Freedman Group is home to RØDE Microphones, Aphex, Event Electronics and SoundField.

1967
The Doors Open
Freedman Electronics began in 1967 when Henry and Astrid Freedman opened shop after migrating to Australia from Sweden. Freedman Electronics soon became a leader in the fledgling Australian audio industry, becoming experts in loudspeakers, amplifiers and custom electronics as well as dabbling in the odd microphone. Freedman Electronics was also the first company in Australia to carry Dynacord consoles which gained fame in Australia whilst Henry sat behind the desk mixing a young Tom Jones during his 1968 tour of Australia.
Right: Freedman Electronics painting The original store on Liverpool Rd, Ashfield, in Sydney. Painting by Jim Wynne.

1990
The Birth of RØDE
With the technological advancement and relative low cost of gear for the home recording enthusiast hitting new heights in the 1990s, the stage was set for the entry of a low-cost, high-quality microphone. Having sourced a microphone from China and tested the market in Australia, Henry's son Peter Freedman and RØDE began creating the infrastructure to design, build and manufacture microphones in Australia. Soon the entirely Australian designed, built and manufactured RØDE NT2 began to roll off the production line and start the amazing journey that has seen RØDE revolutionise how people record audio every day, all around the world.
Left: Freedman Electronics engineers, c1989; Capsule Engineer John Qiu (centre) is still with the company.


2000
Manufacturing Success
RØDE has always had technology and precision manufacturing at the core of its values. In a decision that is at odds with received wisdom, the 2000s saw RØDE invest heavily in the latest machinery and technology to produce world-class microphones across all categories at accessible prices, in Australia. This investment in the machines of manufacture continues, and now includes the electronics, plastics and metals that make RØDE microphones revered around the world.
Right: Unlike most competitors, precision metal machining is performed in-house at RØDE, guaranteeing quality and efficiency.


2008
On-Camera Dominance
Early in the 2000s, Peter created an on-camera microphone so he could get decent audio of his son's rugby matches. The RØDE VideoMic became a bestseller in 2008 as DSLR cameras became capable of producing cinema-quality video. RØDE's extensive range of on-camera microphones and accessories are the number one microphones in the category in the world. Like the NT2 in the early 1990s, this was another example of RØDE making professional quality audio products available to a new generation of creators.

2017
50 Years!
From its humble beginning as a storefront in 1967, Freedman Electronics has become the home to four powerhouse pro audio brands: Aphex, Event Electronics, SoundField and, of course, RØDE Microphones.
Across music recording and performance, broadcast, filmmaking, newsgathering and wireless, RØDE has become the go-to microphone and, along the way, a global powerhouse in pro audio.
Over the years RØDE has been recognised as an industry leader in design and business, earning numerous Red Dot awards, Australian International Design awards and the Australian Manufacturing Exporter of the year for 2013. In 2016, Founder & Chairman Peter Freedman was awarded the Order of Australia for services to export and philanthropy in the arts.
In February 2017, the Prime Minister of Australia, The Hon Malcolm Turnbull MP, visited the Silverwater campus and paid homage to RØDE's success and anniversary, saying, "RØDE Microphones are legend… they are the best in the world. It's an extraordinary story."
To celebrate the milestone, RØDE produced the commemorative book, RØDE TRIP Street Side to Worldwide: Inside 50 Years of Freedman Electronics and RØDE Microphones.
Right - Peter Freedman AM and the Prime Minister of Australia, The Hon Malcolm Turnbull MP at the Silverwater HQ, February 2017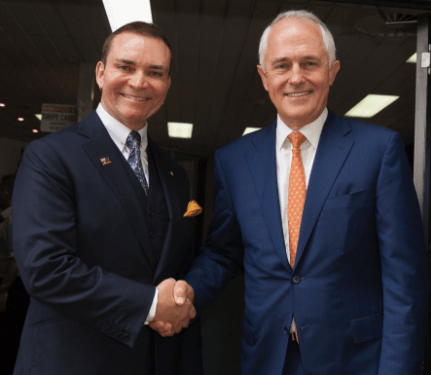 THE NEXT 50 YEARS R
ØDE will continue to innovate, to create new products and categories, to improve production and service, and, ultimately, to inspire millions to realise their creative vision with cutting edge, precision-quality, accessible microphones and accessories.
From Sydney, Australia and now every city in the world, Welcome to RØDE.